Drain Excavation and Repair North Devon
At Active Drainage Ltd, we also offer drain excavation and repair in North Devon. If your drains are badly damaged and beyond repair, our team can excavate the area and get your pipes replaced. In order to cause minimal disruption to you, we carry out any excavation work by hand or using our own excavators. We will also ensure that your site is kept clean throughout the process, as well as safe. Our work is always conducted with minimal inconvenience to all of our customers.
If there is an issue with your drains, call us today for drain renewals and repairs in your local area. Our quick and convenient service can fix any issues efficiently and for a competitive price. If you need our services in Barnstaple, Bideford, Ilfracombe, South Molton and the surrounding areas, get in touch with us today on 01271 371835.
Our professional team carry out drain repairs on domestic and commercial sites. Whether you need to renew old pipes or install new pipework, make Active Drainage your first call. From kitchen gullies to spot repair or extensive excavations, we will reinstate any newly excavated areas as near as possible to their original condition.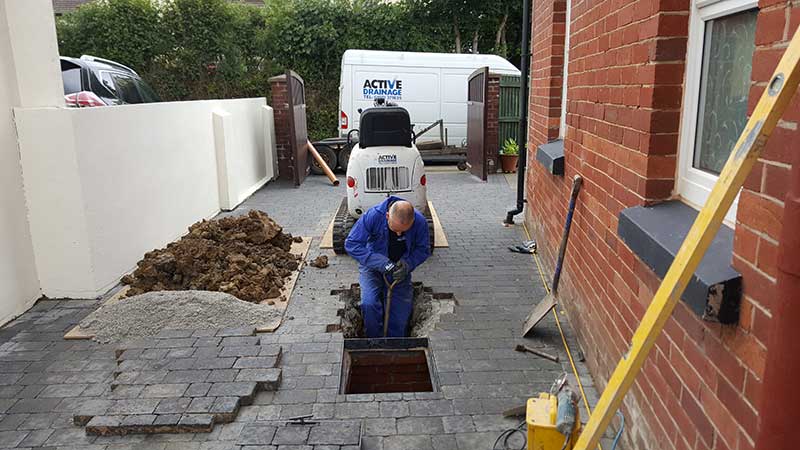 We offer competitive rates on all of our repair services. We know how inconvenient damaged pipes can be, which is why our team promise a quick response to any enquiry. In addition, Active Drainage Ltd has been established since 2000 and in that time we have built up a trustworthy reputation throughout North Devon. We guarantee reliable services that leave your drains in the best condition.
Contact Active Drainage Ltd Today
Do you need drain excavation and repair in North Devon? If so, get in touch with our expert team today. Established since 2000, our team have years of experience in fixing drains and pipes within residential and commercial properties. Whether there are cracks or small holes in your pipes, we promise a quick response and will get your drains working perfectly.